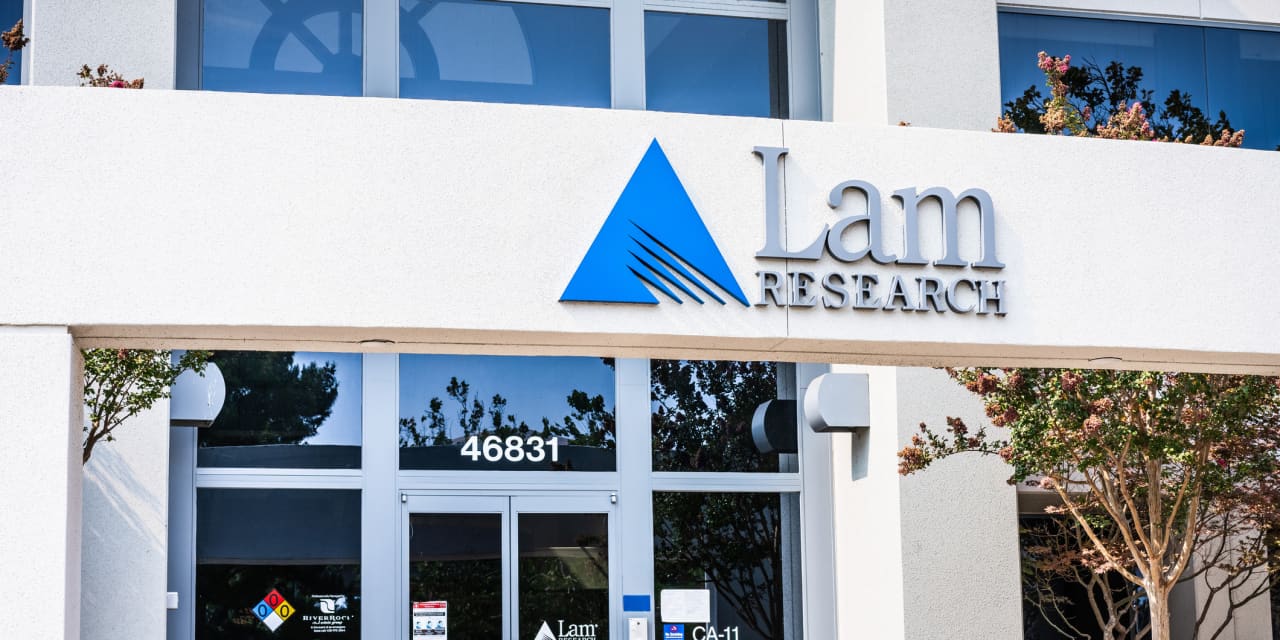 Shares of Lam Research Corp. fell in Wednesday's extended session after the silicon foundry equipment supplier forecast current-quarter results that fell well below Wall Street's consensus while announcing it would cut its workforce by 7 percent.
Lam Research LRCX,
+0.18%
Shares fell 3% after hours, after falling 0.2% to close the regular session at $488.40.
The Fremont, Calif., company said it plans to cut its workforce by 1,300 employees by the end of March.
It expects adjusted third-quarter earnings of $5.75 to $7.25 per share on sales of $3.5 billion to $4.1 billion, while analysts polled by FactSet, on average, were expecting earnings of $7.78 per share with revenue of $4.35 billion.
"Lam closed 2022 with record revenue and earnings per share for both the December quarter and the calendar year, despite supply chain challenges and inflationary pressures," Tim Archer, chief executive of Lam, said in a statement . "Given the decline in wafer fabrication equipment spending expected in calendar year 2023, we are taking proactive steps to lower our cost structure and increase efficiency across our global footprint while maintaining critical R&D."
Reading: Google's US layoffs affect nearly 3,000 employees on both coasts, from data scientists to massage therapists
"With these actions, Lam is focused on accelerating our strategic priorities to capitalize on the long-term growth prospects of the semiconductor industry," said Archer. On Tuesday, Texas Instruments Inc. TXN,
-1.13%
announced that it will continue to grow its own capacity at a time when many others are cutting back amid a chip recession.
Reading: As Texas Instruments grows during recession, analysts await details on capital spending
Lam reported fiscal second-quarter net profit of $1.47 billion, or $10.77 per share, compared with $1.19 billion, or $8.44 per share, in the year-ago period. Adjusted earnings, which exclude depreciation and amortization, were $10.71 per share, compared with $8.53 per share in the prior quarter.
Lam makes the highly complex machines used by foundries such as Taiwan Semiconductor Manufacturing Co. TSM,
-2.27%
to make the silicon for chips made by companies such as Nvidia Corp. NVDA,
+0.30%
and Apple Inc. AAPL,
-0.47%,
while chipmakers such as Intel Corp. INTC,
-0.74%
forge their own silicon.
Revenue rose to $5.28 billion from $4.23 billion in the previous quarter. Analysts surveyed by FactSet had forecast adjusted earnings of $10.03 per share on revenue of $5.1 billion, based on Lam's forecast of $9.25 to $10.75 per share on sales of 4.8 to 5.4 billion dollars.
Shares of Lam Research have fallen 17% over the past 12 months, compared with a 13% decline in the PHLX Semiconductor Index SOX,
+0.18%,
down 8% from the S&P 500 SPX;
-0.02%,
and a 16.5% decline in the tech-heavy Nasdaq Composite Index COMP,
-0.18%.