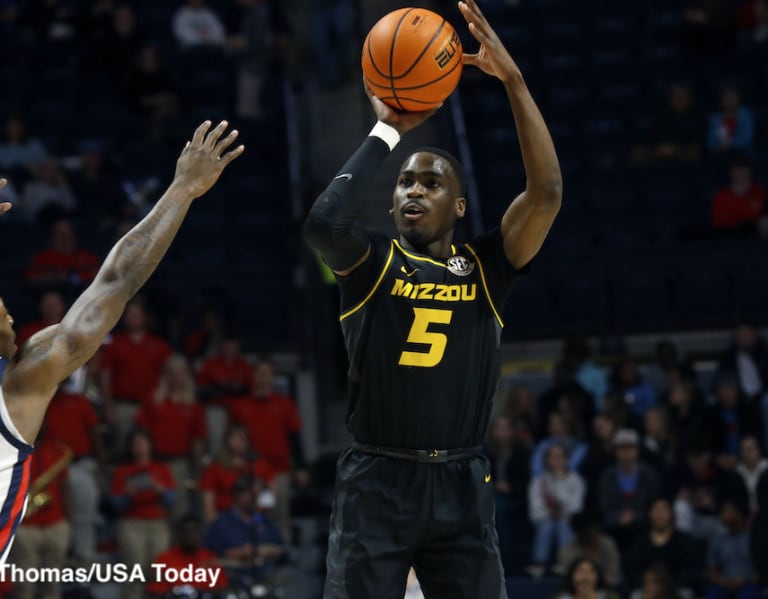 The fall was real. Missouri's 37.0 3-point field goal percentage was above the NCAA Division I average through the first 15 games of the year. The Tigers went cold over the next four games, however, going just 18-97 and coming on so strong that the percentage for the season dropped to 33.3.
The recession got worse as it went on. It culminated in the team's worst showing from deep all year Saturday against No. 4 Alabama, where MU sank just 3-28.
The recession was about to come to an end. And it did, as Mizzou caught fire against Ole Miss in an 89-77 road win on Tuesday, going 16-30 from beyond the arc. But how? What changed in the two days between the team's worst shooting night of the year and its best?
Nothing, really.
"We didn't want to put extra pressure on our kids. We kept the same routine," Mizzou coach Dennis Gates he said. "We didn't push a panic button. And I just believe our whole program, our whole team, just continuing to not waver and believe in each other and believe in our style."
The Tigers are now up to 180 3-pointers on the season – more than the 171 they made in the entire 2021-22 season. The 53.3% they shot against the Rebels was their best percentage of the year. The 16 treys were the most in an SEC regular season game in program history.
"I knew we were going to get there at some point," Gates said.
Senior guard D'Moi Hodge led the way going 6-11 against Ole Miss. Senior forward Kobe Brown and senior guard Isaiah Mosley helped with the heavy lifting, each had four to throw. Senior and junior strikers Noah Carter and Mohammed Diarrarespectively, added a piece.
There may be more nights when the basket has a lid. There may also be nights when Mizzou shoots even better than it did on Tuesday.
Gates doesn't want to overreact to either. As long as his players are shooting well, the lights will come eventually.
"We haven't done anything different as a program as it relates to increasing shots," Gates said. "I think our guys were able to meditate and allow the ball to find the right shots. They screened for each other, the ball was moving, we got back to 21 assists, which is essential in our program."
Everyone here already has insurance (or should). Everyone here also cheers for the Tigers (or should). In college sports the hot button issue is ZERO. A school can no longer compete the way it did just a few years ago without a strong NIL collective. In our economy, the hot button is inflation. Here's your chance to see about saving money on something that the state requires you to have in your car and your lender requires you to have in your home. By the way, just an offer from James' office will receive a donation on your behalf to the Every True Tiger Foundation, one of Mizzou's NIL initiatives. Flash if you like to save money. If you want to go all out, double-blink your favorite college program to be as competitive as possible in the SEC. Call James' office at 314-961-4800 or get a quote online at carltoninsurance.net.
"If your insurance is costing you a leg and an arm, call James Carlton State Farm."